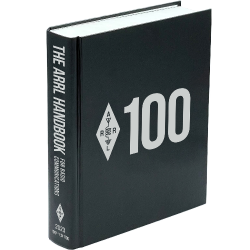 From nediv.arrl.org:
Dave Tessitore, K1DT, President of the Providence Radio Association (W1OP) writes in a December 27 email:
"…Under our Christmas tree, from my XYL, was the hot-off-the-press 100th Edition ARRL Handbook. After our family and friends had all gone home, I sat at my desk and cracked it open.
"There on the title page, under the impressive words, One-Hundredth Edition, is the list of Contributors. Among them are two PRA Members: Frank Donovan, W3LPL and Rick Rosen, K1DS. What an honor to have these two giants in their fields as members of our club!
"I next turned to the middle of the Handbook, to the full-color 100 edition retrospective, and there is a 2-page interview with friend and former PRA member Skip Youngberg, K1NKR, who recently spoke at our 100th anniversary dinner!
"What other radio club has three members contributing to the definitive publication on Amateur Radio?
"But wait, make that four members, for let us not forget our Secretary Domenic Mallozzi, N1DM, who contributed to both the 1986 and 1999 Handbooks!
"Congratulations to Frank, Rick, Skip, and Dom! You make us Proud."
Well, Dom, N1DM (who will be speaking at the Nashoba Valley Amateur Radio Club's (NVARC) January meeting) is a member of Marlborough's Algonquin Amateur Radio Club (AARC). So that makes two AARC members in the 100th Handbook.
And as far as NVARC is concerned, Phil Erickson, W1PJE, is listed on the title page as a contributor and an article by Joe Dzekevich, K1YOW, is in the Handbook's supplemental files. That's three for NVARC.
Also on the local front, Doug Grant, K1DG, has a title page listing and copious acknowledgements throughout the book. Club members remember Doug from WRTC2014 and probably a few talks at meetings over the years. Plus, Jim Idelson, K1IR, and Bob Clarke, N1RC, (whose affiliations are unknown to me) have Handbook title page listings.
It seems like one-land is well represented.
Background (courtesy Skip, K1NKR):
Last Spring, Fred Kemmerer, AB1OC, asked me about the status of my QST and Handbook collection. The League was putting together the 100th edition of the ARRL Handbook for Radio Communications and was looking to contact a collector. Fred subsequently put me in contact through League Headquarters with Mark Derks (unlicensed then, now KC1RVQ), a member of the publications staff. Mark and I exchanged phone calls in mid-April, then he and a photographer came over from Newington and visited my shack to conduct an interview. The result in the hardcover version of the Handbook was a sixteen-page color section of radio history which included two pages devoted to the interview.
The whole exercise was quite enjoyable, with the only difficulty being that I was under a nondisclosure agreement until the Handbook came out. I had a hard time keeping the secret between April and October!
The K1NKR collection contains every issue of the League's monthly "QST" magazine back to 1915 (all library-style hardbound) and all but one year of the Handbook.
Technically, this year's Handbook edition is the hundredth, not the centennial. The first Handbook edition was published in 1926. The years 1927 and 1928 actually had two numbered editions published per year.
As you know, the Handbook is a massive, almost 1300-page encyclopedia of electronics and communications technology that weighs in at 6.2 pounds—a pretty good pennies-per-page investment even if you only spring for a Handbook "every hundred years or so." And if you do, go for the hardcopy version.
73 all, and the best of the New Year,
Skip