From The ARRL Letter, November 21, 2019:
Art Donahue, W1AWX, of Franklin, Massachusetts, has posted his "Tribute to a Century of Broadcasting" video in recognition of the centennial of formal radio broadcasts. The video features a complete scan of the AM broadcast band (530 – 1700 kHz), with station IDs for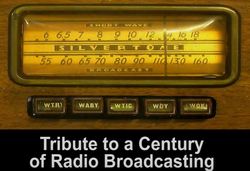 all 118 AM radio channels.
Donahue told ARRL he recorded these off the air using two long-wire antennas in the trees. Each slide highlights one station on each frequency with call sign, location, power, day/night/gray-line reception, distance, and year of first broadcast, accompanied by audio of an actual station identification.
"If you ever spent evenings when you were a kid trying to hear long-distance radio stations on your AM radio, this video has what they all sound like today," Donahue said. "I wanted to do something in honor of the KDKA broadcasting centennial next year and thought I'd try to get every single channel recorded. It took a lot of time, patience, and good luck. You'll hear a lot of surprises on the video."
Donhaue added, "It was a fun project to work on."