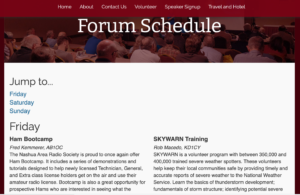 From nediv.arrl.org:
The program schedule of forums and presentations for the 2021 Northeast HamXposition (a.k.a. "ARRL New England Division Convention") has been posted online at: <https://hamxposition.org/forums-and-classes/forum-schedule>.
Some 68 events and talks are scheduled for the three-day event which takes place at the Best Western Royal Plaza Hotel & Trade Center in Marlborough, Massachusetts on September 10-12, 2021.
For more information, visit: <https://hamxposition.org>.