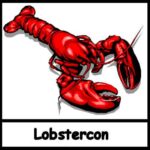 From nediv.arrl.org:
The Lobstercon2021! event will be held at Thomas Point Beach & Campground in Brunswick, Maine on July 9-11, 2021. This is the 22nd year that W1REX has hosted the QRP event.
"… I plan on coming up with a few special activities to make our awakening event from this pandemic very special and an event that you will not want to miss," writes Rex. "If you've thought about coming to Lobstercon but never got a round tuit, you had better make this one."
Billed as New England's premiere QRP gathering, Lobstercon is a weekend of QRP camping, BBQ eating, operating, socializing, lobster eating, prize winning, and all-round great QRP time. The $50.00 registration fee includes wake-up coffee, juice, cereal, bagels and donuts (if you wake up early enough) and two giant meals on Saturday: a BBQ lunch and fresh Maine lobster dinner.
"Lobstercon lobsters are fresh out of the ocean for less than an hour before they go into the pot. You can taste the difference."
For full details and to register, visit <https://www.qrpme.com/?p=product&id=L21>.